Features
What makes LivePrompter different from "normal" teleprompter apps?
There are a number of lyrics/chord display apps out there that offer tons of features. Unfortunately, I've found most of them a bit unwieldy for live use, so LivePrompter was created as a super-stripped-down tool that works very well in a live setting. But in the course of this, I had to make some decisions on what do leave out.
Therefore here are some things that LivePrompter is NOT: 
A song database with sophisticated search and management features
A guitar chord finder
A sheet music viewer
A Karaoke app
An all-singing, all-dancing, do-everything-for-everyone music application
LivePrompter does one thing only, but that it does pretty well…
Screenshots
LivePrompter only has two screens - makes life simple!
Lyrics Screen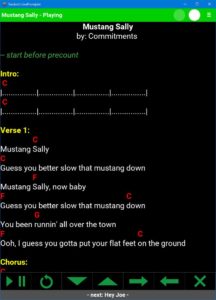 This window, normally shown full-screen, displays your lyrics and chords, scrolling in time with your song.
The title bar displays the currently loaded song. It changes its color to signal the current state of LivePrompter (ready to scroll, running, paused, finished), so you can see at a glance what's going on. Also, it has a simple metronome that can display the tempo of the current song.
At the bottom, there is a row of big buttons to operate LivePrompter via mouse or touch screen: play/pause, reset to beginning, scroll up/down, next/previous song, exit.
Below this, the footer bar displays the next song in the list.
Download LivePrompter now!
Head to the download page and get LivePrompter
Get in touch!
Get support, share your best practices, report bugs, request features or just chat at the LivePrompter forums!