I've just posted a new release for LivePrompter mobile with some additions:
There is a new setting in "List Display" that allows you to pre-select a setlist or a book to be shown when LivePrompter starts. This can save you some taps if you mostly use LivePrompter with the same setlist or book.
I also created a first version of a Diagnostics function for LivePrompter mobile. You can find it in the hamburger menu, below "Settings". It allows you to get internal details of some of LivePrompter's functions to help troubleshooting your configuration. There will be new functions added to this in future releases to help troubleshoot support issues posted at the forum.
Currently, you can
get overview information of the currently loaded profile
list all the files inside the internal LivePrompter directory on your mobile device – this is where your synchronized Dropbox data is stored, so this function can be helpful diagnosing sync issues.
Get information on your MIDI configuration, check your MidiSend.txt and MidiReceive.txt files, and do some real-time testing of a MIDI connection, with detailed diagnostic messages from "under the hood"
Get information on your Cantabile Connection and test it real-time
Test your LP Connect setup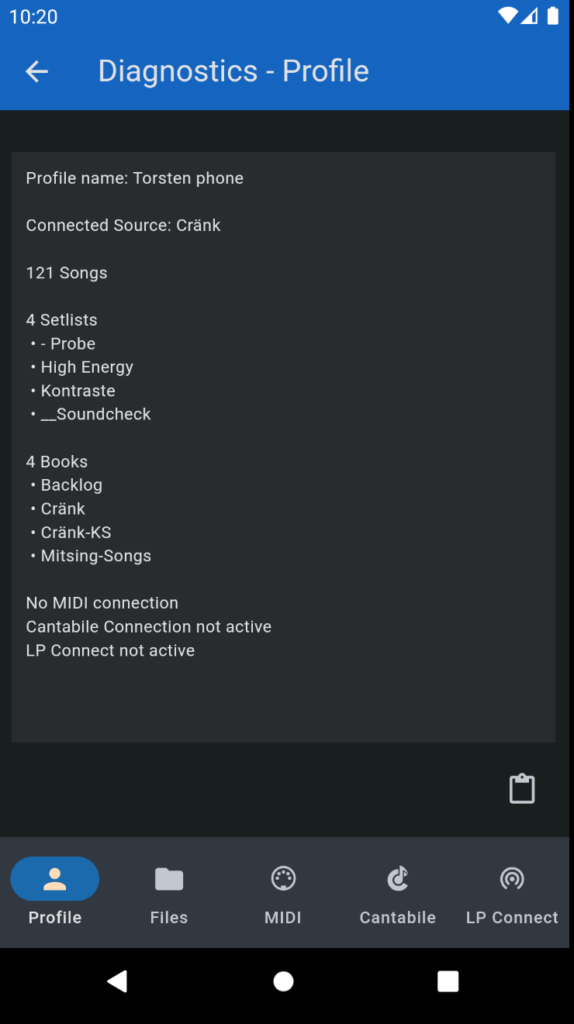 This version will be distributed via Google Play over the next days.